A WARMBLOOD IS to answer a question.....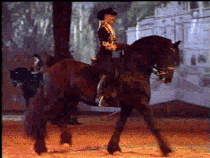 glitter-graphics.com
NOT JESSIE JONES A PREGNANT (VERY) QUARTER HORSE) BY A COLT BY CHILLA SEENEY'S FABULOUS JESSIE JAMES
A Warmblood is a horse not carrying any of the hot blooded lines eg Arabians are the ancestors of the hot blooded horses, TB's etc ...The warmbloods were classed as the draught horses and war horses, heavy to carry the armour...in history. The continental horses used in Olympic competition largely from Germany developed in relative modern times are classed as a Warmblood with sub categories under that heading...I am very ignorant to the specifices of the breed but are superb jumpers and dressage exponents. The Australian and New Zealanders were I guess the only olympic 3 Day Event riders to use nearly all Thoroughbred horses in the Olympic arena and were getting seriously good. The horses used by NZ's and Aussies being thoroughbreds were very fast over the courses but.....the time factor is not such a consideration I believe...the rules have changed either to bring the TB's back to the field or because of the societies in the areas of cruelty to animals had concerns about the distances and speeds required from eventing horses. This is a laymans take on the situation. The warmbloods have a very flexible hock which allows them to swing their back more readily than the Thoroughbred which enables them to perform the gymnastic requirements of dressage. Dressage is the basics of the manouvers taught the war horses to duck and dive the sword and lance thrusts in war. The three day event also has its origins in military requirements.
The two ponies are full siblings, Champagne and Legally Blonde. The big grey mare is the Warmblood with three quarters of her breeding German the remaining quarter is thoroughbred. She is 17.1 hands high which is quite tall. Barbara is the rider of the grey mare and the legs belong to her instructor a German woman who had a bad accident and now lives in Australia and limits herself to instruction which she is a very competent component of...The mare has been stuck at my place since EI and will take her to her owner, Barbara, at Coffs Harbour as soon as am allowed with the two state Primary Industry protocols for travelling eased.

You can see from this picture all the weight on the front leg for the instant. This horse I bred by a Star Kingdom stallion King Star out of an Emperor's Leaf mare, three crosses of Heroic, which made for a good racehorse but an impossible stallion!!!